What Counts as Possession?
Various crimes can involve illegal or controlled substances. However, possession is the most common offense. If you have been arrested for drug possession, an experienced criminal defense attorney can help you understand what counts as possession under Texas law and whether you may have defenses against your charges. It's essential to contact an experienced criminal defense lawyer right away if you've been arrested for drug possession.
How Does Texas Law Define Drug Possession?
Under Texas's Health and Safety Code, it is illegal for someone to knowingly or intentionally possess a controlled substance that they do not have a lawful prescription for. Texas law classifies drugs into one of several schedules of substances.
Actual vs. Constructive Possession
Possession is divided into two legal categories: actual possession and constructive possession.
Actual possession occurs when drugs are found on your person, such as in your hands, in a clothing pocket, or in a bag that you were carrying. Actual possession also means that no other person besides you had access to the drugs.
Conversely, constructive possession occurs when drugs are found in your vicinity when you are arrested by law enforcement. Constructive possession typically involves multiple people knowing and accessing the drugs at issue.
Constructive possession can only be proven if the facts and circumstances show that you could exercise control over the drugs. Merely being in proximity to drugs cannot prove constructive possession. Cases of constructive possession often involve drugs being found in:
A vehicle with multiple occupants or that multiple people have the right to use
Residences where drugs are found in common areas like the living room or kitchen
The suspect's own bedroom
In a drug possession case, the prosecutor is required to prove beyond a reasonable doubt that you had possession of the drugs in question.
Penalties for Conviction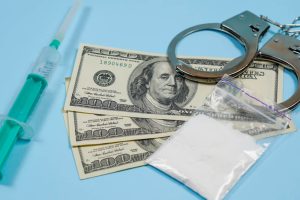 The penalties for a conviction for drug possession in Texas will vary depending on several factors, including:
The type of drug
The quantity or weight of drugs involved
Prior criminal history
Drug possession charges can be graded from a "Class B" misdemeanor under Texas law all the way up to a first-degree felony. Penalty ranges for a drug possession conviction may include:
Class B misdemeanor: Up to 180 days in jail and/or a fine of up to $2,000
Class A misdemeanor: Up to one year in jail and/or a fine of up to $4,000
State jail felony: 180 days to two years' incarceration
Third-degree felony: Two to 10 years imprisonment
Second-degree felony: Two to 20 years imprisonment
First-degree felony: Life imprisonment, or a prison term of five to 99 years
Felonies may also include the imposition of a fine of up to $10,000. Furthermore, a criminal conviction can have long-term consequences of having a criminal record.
Defenses to Possession Charges
If you have been charged with possession of drugs in Texas, you may have possible defenses regarding the prosecution. Common defenses raised in possession cases include:
You did not know you had possession of drugs.
You did not have constructive possession of the drugs, such as if the drugs were found in a locked or lockable container or room that you did not have access to.
You were prescribed the drug by an authorized medical provider.
The drug was not intended for human consumption.
The Food and Drug Administration has approved the drug under an approved new drug application or for investigational use.
The substance found in your possession was not proven to have been an illicit drug.
In addition, Texas law also provides a statutory defense to prosecution for possession of lower quantities of drugs. This defense may be invoked if:
You were the first individual to request emergency medical assistance for someone who was possibly overdosing, and you remained on-scene until the arrival of first responders and cooperated with paramedics and law enforcement.
You were the victim of a potential overdose for which emergency medical assistance was requested.
However, the statutory defense cannot be used if:
You were in the process of being arrested.
Your location was being searched under a warrant.
You were committing another criminal offense at the time.
You have previously successfully invoked the defense.
You have been previously convicted of a drug offense.
An experienced criminal defense attorney help pursue the best defense against the charges based on the details of your case.
Contact the Law Offices of Mark T. Lassiter for a Case Evaluation If You've Been Charged with Possession
If you have been arrested and charged with drug possession in Texas, you need experienced legal representation to potentially avoid the most serious consequences of a conviction. Call the Law Offices of Mark T. Lassiter at (214) 845-7007 for a free, confidential consultation to speak with our criminal defense attorneys about how we can advocate for your interests and help you defend your future.