Improper Relationship Between an Educator and Student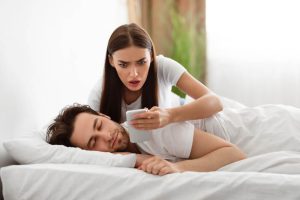 According to a survey completed by Houston PR firm Drive West Communications, Texas was in the middle of an epidemic of illegal teacher-student relationships in 2015. In Texas, the age of consent is 17 years old. In 2003, Texas enacted Texas Penal Code § 21.12, which defined improper relationships between educators and students.
When the law was initially authored, it applied to students 17 years of age and younger and adults at the student's school. However, it was later amended in 2011 to include not only students at the school where the employee worked but also students in the employee's school district.
The intent of the law was to protect the students from being coerced by teachers or other employees. The law was expanded to include any student, no matter how old they were, as long as they were enrolled in high school. Hypothetically, this means that an 18-year-old senior could not have a relationship with a 21-year-old janitor who works in the same school system.
If you believe you are being investigated for an improper relationship with a high school student, we recommend you do not make any statement to law enforcement without legal representation. Contact the Dallas sex crimes defense attorneys of Law Offices of Mark T. Lassiter at (214) 845-7007 as soon as possible. The earlier we are involved, the more time we have to gather evidence and build a case to defend your rights.
What Does the Law Say About Relationships Between an Educator and Student?
Many lawyers believe that Texas has one of the toughest improper relationship laws in the nation. Under the law, an employee of a primary or secondary school may be charged with an improper relationship with a student in the same school district if they have any type of sexual contact or engage in online solicitation for sex.
This is not limited to teachers but includes all employees, such as janitors, teacher's aides, or office staff. Texas also has a "Romeo and Juliet" law under Texas Penal Code 22.011. Under this law, a person aged 14 to 17 can legally consent to a sexual relationship when the other person is within three years of their age. This means that an 18-year-old can legally have sex with a 16-year-old or an 18-year-old with a 21-year-old.
However, when the 18-year-old is in high school, and the 21-year-old is employed by the high school, it falls under the improper relationship law, and the older party can be prosecuted. The law also applies if an educator is having a relationship with a student who's participating in an activity that is sponsored by the educator's school or school district.
The law only applies to secondary and primary schools and not to post-secondary school relationships. While a college or university can have its own internal rules, a relationship between an educator and a student in those schools is not a criminal offense in Texas.
If the relationship between the student and teacher does not meet the criteria of sexual contact, the educator may not be violating Texas law. However, they will likely be violating the individual school's code of conduct.
Additionally, the law does not place a limit on the time in which an improper relationship occurs. In other words, the law defines an improper relationship whether it occurs during school hours, after school hours, on school property, or off school property. Although the age of consent in Texas is 17, this fact is not taken into account when the student is having a relationship with an employee of the school district.
What Are Some of the Problems with the Law?
In this case, the Texas Penal Code has criminalized any sexual relationship between a teacher and the student regardless of whether both individuals are consenting adults. The improper relationship law was meant to protect students from coercion but has criminalized relationships regardless of the age of both parties.
Unfortunately, teachers can be the victims of false accusations by students or concerned parents. It's imperative for the accused to have an experienced attorney who will thoroughly investigate the claims and aggressively defend their clients' rights.
These cases are often complex and may open you to other charges. For example, if the student is younger than 17 and the educator and student were engaged in digital communication, the accused may be charged with an online solicitation of a minor as well. Texas Penal Code 21.12 allows for a person to be charged with more than one statute as long as all apply.
Punishments Under the Law
If the accused is convicted under the Improper Relationship Between Educator and Student, they can be sentenced to a second-degree felony. Punishments can range between two and 20 years in the Texas Department of Corrections and a maximum fine of $10,000.
An experienced criminal defense attorney may be able to negotiate a reduced sentence. There are defenses available, and there are certain instances when the relationship is legally permissible.
At this time, those convicted of an improper relationship between educator and student are not required to register on the sex offender registry. There have been attempts made to change this ruling. Although this is not a registerable offense, if you were charged with other offenses, such as aggravated sexual assault, there may be registration requirements.
What to Do if You Are Charged
These cases often make the news, which may tempt you to defend yourself in public. However, it is vital that you remember anything you say can be used against you. Whether you say it on YouTube, on social media, to a local reporter, or to law enforcement, it can all be used against you in a court of law.
Our criminal defense team is interested in evidence that can make the difference between you being found guilty or innocent, going to prison, or getting probation.
Even though you would like to get your name and reputation cleared as quickly as possible, the less you say to anyone except your attorney, the better it will be for you. Your first step is to hire an experienced criminal defense team and begin planning your defense.
Contact the Law Offices of Mark T. Lassiter Today
If you have been charged with an improper relationship between educator and student, or you know you're being investigated, it is in your best interest to seek the advice and legal counsel of an experienced criminal defense attorney.
The legal team at the Law Offices of Mark T. Lassiter are skilled trial attorneys who know how to develop a strong defense to protect your rights, reputation, and freedom. Call our office today at (214) 845-7007 to schedule your confidential consultation.