DALLAS
Criminal Defense Lawyers
The Law Offices of Mark T. Lassiter Offers Experienced and Aggressive Representation
If you're facing criminal charges of any kind, it's important that you fight back with the same ferocity that will meet you. Building a strong case, hiring a tough lawyer, and following all the right steps will help to ensure that these charges will soon be a thing of the past. When it comes to criminal defense attorneys in the Dallas area, the Law Offices of Mark T. Lassiter may just be your best bet. Our Dallas criminal defense attorneys will thoroughly review the details of your case and will help you navigate the legal process. We even offer a free consultation to get you started. Nothing should stand in your way of contacting an attorney and getting on the right path to justice.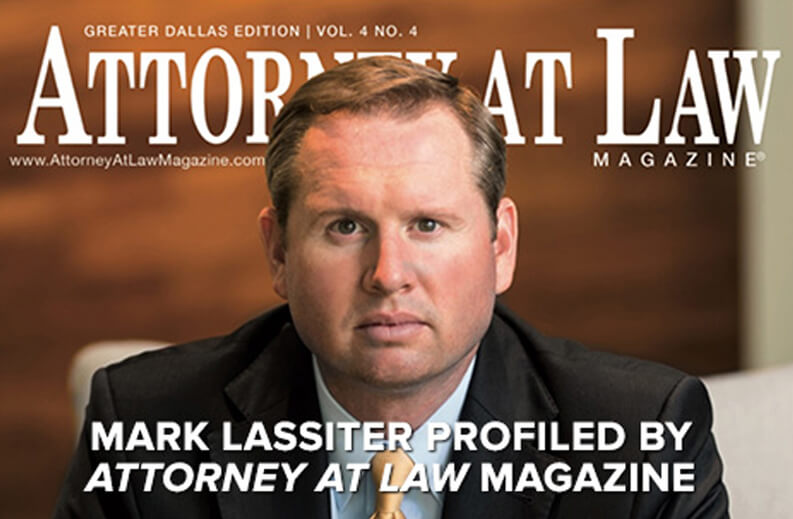 CONFIDENTIAL
Free Case Evaluation
Nationally Recognized Defense Attorneys
Since 2006, the Dallas criminal defense attorneys at the Law Offices of Mark T. Lassiter have effectively represented thousands of people all over the state of Texas. Over the last 12 years, we have garnered a national reputation for our significant verdicts and settlements and our efficient and successful approach to tackling the most complex areas of criminal law. We have consistently been chosen as Texas Super Lawyers, ranked by The National Trial Lawyers as Top 100 Lawyers and uphold an AVVO rating of 10.0. Our team is compassionate and professional and we don't judge you for simply picking up the phone or walking through our doors. It's our conviction in the belief that you're innocent until proven guilty that has driven us as criminal defense attorneys for these past ten years as a firm.
For more than 12 years, the Law Offices of Mark T. Lassiter has been a fixture in the Dallas community. As many of us are Texas natives, we're familiar with the city of Dallas and its residents. We grew up, built our practice, and raised our families here. We'll fight to protect the rights and defend Texans who have been accused of any crime. If you or someone you love is facing a criminal charge, contact the Law Offices of Mark T. Lassiter for a free consultation with a Dallas criminal defense lawyer. We have successfully represented hundreds of people facing serious allegations and are prepared to do the same for you. Contact us today for a free and confidential case evaluation by filling out our email form or by calling us at (214) 845-7007.
DO I NEED A

CRIMINAL DEFENSE LAWYER?

Being accused of a crime is serious and can have life-altering effects for both you and your loved ones. After a charge has been brought against you, you're likely reeling with questions. How am I going to pay the fines for my charge? How will I be able to apply for a job? How will I be able to provide for my family if I'm in prison?

It's an unfortunate reality that people who have a conviction on their record have even their barest rights stripped away from them and the accused often deal with faltering or failing relationships, even before they ever step into a courtroom. With the help of an experienced attorney, however, it's possible to have charges dismissed or even reduced. You're unlikely to acquire the best possible results that you deserve without legal representation, so this step is crucial. People who have a defense attorney are much more likely to have the severity of their punishment reduced or eliminated. For this reason, we always recommend that those who are accused of a crime seek the legal guidance from an experienced and aggressive Dallas criminal defense attorney.

The legal process can be excessively daunting. Let us handle the paperwork, phone calls and negotiations so that you don't have to learn the ins and outs of criminal law. Our initial consultations are free, so contact the Law Offices of Mark T. Lassiter today.

LEARN MORE
Why choose the Law Offices of

Mark T. Lassiter to handle my case?

If you need a criminal defense lawyer in Dallas, you certainly have a number to choose from. How do you know which criminal defense firm is right for you and your family? How do you know who you can trust to fight for your freedom and rights? The fact remains that not all defense attorneys are created equally. Choosing the right lawyer may determine if your charges are completely dismissed, significantly reduced, or neither. These are some of the facts that set the Law Offices of Mark T. Lassiter a tier above the rest:
OUR CRIMINAL DEFENSE PRACTICE AREAS
Whenever a person is charged with a crime, it must be met with an experienced, aggressive legal defense. At the Law Offices of Mark T. Lassiter, we are prepared to put our considerable experience to work for you if you are facing charges involving any of the following:
Your future is too important to leave anything to chance. As such, it is important to make sure that you have a committed team of experienced Dallas criminal defense lawyers supporting you if you are facing criminal charges of any kind.
Contact a Dallas Criminal Attorney Today
We understand that a criminal charge can alter your life for years to come. The fear of having to pay significant fines and potentially facing jail time are frightening and stressful consequences of a conviction. Additionally, friends, family and coworkers may begin to perceive and treat you differently which can have a severe impact on your emotional and mental health. The Law Offices of Mark T. Lassiter have the utmost sympathy for families facing legal charges. The fear of losing your current freedoms and having your personal rights taken from you can be difficult to reconcile with. The legal process can be exceptionally intricate and difficult to understand. We want our clients to feel well-informed and taken care of as we pursue justice in their case.
If you have been charged with an offense, you need to contact an attorney as soon as possible to ensure that your legal rights and freedoms are upheld throughout the legal process. At the Law Offices of Mark T. Lassiter, we know what it takes to represent people facing a wide range of offenses effectively, and we are ready to put our dedication to work for you. Our Dallas criminal defense law firm fights to protect the rights and defend Dallas residents who have been given criminal charges. If you or someone you love is facing charges, contact the Law Offices of Mark T. Lassiter for a free consultation with a Dallas criminal defense lawyer. We approach defending charges aggressively. We have successfully represented hundreds of people and are prepared to do the same for you. Contact us today for a free and confidential case evaluation by filling out our email form or by calling us at (214) 845-7007.
How Long Will the Process Take?
It's incredibly difficult to say how long you will need to fight an accusation. The longest criminal court case recorded in the United States took seven years, but most processes run through to completion within a few months. Some are shorter, and some are longer than this. Many of the determining factors depend on what crime you were accused of, whether it's a federal or a state crime, whether it is a felony or a misdemeanor, among other things. It is best to consult with an attorney regarding this question as they will be able to give you a more accurate idea of how long it may take.
Frequently Asked Questions
ANSWERS TO YOUR PRESSING QUESTIONS
A criminal conviction in Texas may have a long-lasting impact on your future. If you are convicted of a crime in Texas, it can negatively impact your life in myriad ways.
Many offenses, including DWI, could result in the revocation of your driver's license upon conviction. You could lose your job after being convicted of a job, and you may have trouble finding work with a criminal record. Many employers run background checks before hiring someone. If you have a criminal record, you may be turned down. Furthermore, professional licensing boards in certain fields could take away your license or decline to give you one.
If you are in college, you could get suspended or expelled. You will likely at least hear have to attend a hearing before your school's disciplinary board. You may be unable to secure federal financial aid as well.
A convicted felon cannot possess a firearm in the state of Texas. However, after five years pass from the end of your prison sentence, parole, or probation, you may possess a firearm, but only in your home. If you are a foreign national, a conviction can prevent you from obtaining a green card or becoming a naturalized American citizen. You may also lose your job and be deported.
A criminal conviction in Texas may land you in jail or prison. You also may face probation, suspended sentences, restrictions, or sanctions depending on the severity of the charges.
A person convicted of criminal charges has to face a court trial. The judge can handout punishments of different types based on the severity of the crime. It may include a prison term, fines, or both.
In Texas, a criminal conviction on misdemeanor charges may include the following punishments:
Class A misdemeanors: Up to 1-year imprisonment and $4,000 fine
Class B misdemeanors: Up to 180 days jail and $2,000 fine
Class C misdemeanors: Up to $500 fine
A felony conviction can lead to more serious penalties, including:
Capital felony: Death penalty
First-degree felony: Life prison sentence with $10,000 fine
Second-degree felony: Up to 20-year jail sentence and $10,000 fine
Third-degree felony: Up to 10-year jail with $10,000 fine
State-jail felony: Up to 2-year prison term with $10,000 fine
An experienced Texas criminal defense attorney can help you in many ways. Below are some of the key benefits of hiring an attorney when you've been charged with a crime. A criminal defense attorney can help:
Navigate the complex criminal justice system
Negotiate for a favorable outcome
Determine the right sentencing program for your situation
Hire investigators and expert witnesses
Having a good lawyer by your side throughout your criminal trial can make all the difference in the world. Allow our attorneys to fight tirelessly toward a favorable resolution for your case.
Being arrested is one of the scariest and most confusing moments in an individual's life, especially if it's the first time it's happened to you. If you are arrested in Dallas or anywhere else in Texas, you should be careful about what you say when dealing with police officers. If you are being questioned, don't answer any questions until your attorney is present. Never sign anything without consulting with an experienced criminal defense attorney. If you believe you are being threatened or coerced by law enforcement after your arrest, let your lawyer know about this.
No matter if you have been arrested for a state crime or federal crime, police officers are trained to accomplish their main goal, which is to gather as much evidence as they can. This, it's critical that you exercise your Fifth Amendment right to remain silent. Immediately ask to speak to a qualified criminal defense lawyer.
The primary difference between a misdemeanor and a felony is that misdemeanors are less serious offenses. Misdemeanors are punishable with less than a year jail time, whereas felonies are punishable with at least a year of prison time.
A misdemeanor charge typically involves non-violent offense, meaning the illegal action did not cause harm to the alleged victim. Punishments for misdemeanor offenses include: fines, community service, court-ordered treatment, probation, and jail time that does not exceed one year.
In Texas, misdemeanors are classified into three categories according to the seriousness of the offense: (1) Class A misdemeanor; (2) Class B misdemeanor; (3) Class C misdemeanor.
In Texas, misdemeanors are classified into three categories according to the seriousness of the offense: (1) Class A misdemeanor; (2) Class B misdemeanor; (3) Class C misdemeanor.
Shoplifting and theft
Driving While Intoxicated (first and second offense)
Indecent exposure
Prostitution
Harassment
Unlawful carrying of a weapon
Assault with injury
Burglary of a vehicle
Failure to pay child support
Minor drug possession
Lying to a police officer
Class C misdemeanors, the least serious misdemeanor offense, are punishable by fine only. Traffic citations like speeding and driving without a license are among the most common fine-only misdemeanor offenses.
A felony is the most serious type of criminal offense. Crimes in this category are reserved for violent and illegal actions that cause physical injury, financial harm, or death to another person. In addition to a prison sentence of over a year, hefty fines are imposed with felonies. The fine for a felony is usually more than a misdemeanor.
Examples of felonies include:
Robbery
Arson
Kidnapping
Indecent exposure to a child
Intoxication assault
Rape
Murder
Manslaughter
Sexual assault
Aggravated sexual assault
Possession of child pornography
Online solicitation of a minor
DWI (third offense)
Trafficking of persons
If a plea bargain cannot be reached during the pretrial conference, your trial date will be set. In some cases, it is better idea for a defendant to stand trial rather than take a plea bargain. It all depends on the facts and circumstances of the particular case. An experienced criminal defense lawyer will be able to determine your best course of action.
A criminal trial involves opening statements by your defense lawyer and the prosecutor. Witnesses are called and questioned. Evidence is presented. Your criminal defense lawyer and the prosecutor will make closing statements, and the judge will give the jury instructions. After deliberation, the jury announces its guilty or not guilty verdict.
In Texas, the jury's verdict must be unanimous in order to convict the defendant. If a unanimous vote cannot be reached, a mistrial is declared. If a unanimous guilty vote is reached, sentencing commences. After the verdict has been rendered, your lawyer may attempt a post-trial motion, such as a motion for a new trial.
TESTIMONIALS
"He handled an unjust ticket for me and was very thorough and on time with notices, etc. His communication was short and to the point without false fluffy words or promises."
Pat
When my son received a DWI, I wanted to get him THE BEST lawyer I could find. I researched for two days, and then I found Mark Lassiter. I looked no further. As soon as I read about him, I knew that I found THE BEST. From the moment I met him, I had COMPLETE confidence in him. At the end of my son's trial, Mr. Lassiter came through with a defense case so impressive that the case was dismissed before the prosecutors finished their argument. I will always be grateful to him.
Susan
Mark is a very intelligent professional defense Attorney on my DWI offense that Mark convinced the jury that i wasn't guilty i highy recommend Mark to my family and friends once again thanks Mark
Carlos
I had my first DWI charge and I was unclear of next steps. I was getting propositioned left and right by less ethical lawyers and one even "claimed" my case and I missed my court date. However, Mark Lassiter and his amazing paralegal took care of everything. They were very prompt and clear with their communication on every step of the process. Also if anything came up I got a call right away and they let me know what I needed to do next. Honestly made this stressful situation manageable. I already recommend them to anyone who is going through the same situation as me. That said he does come at a premium cost but is worth every penny, and his team is willing to work with you on payment plans.
Anon
I recently was referred to contact Mark Lassiter by a colleague and called him for a consultation related to a recent arrest for public intoxication in Dallas. He was terrific; I had never been arrested before and was unsure of what the appropriate next steps would be. He was detailed in his step-by-step approach and provided me sound legal advice on how he would handle this case.I elected to hire him as my attorney and it was the best decision. He handled my case and was able to get the charges dismissed. As a professional it was imperative to be able to get this charge removed from my record.If you are in need of a criminal defense attorney, I would highly recommend Mark's services.
PS
I am a very satisfied and a relived client. After meeting with various lawyers Mark was the one who won me over. Walking into his office you will be impressed of all his credentials. He is professional and aggressive which is what everyone looks for in a attorney. Every other lawyer I interviewed mentioned to "plea deal", I knew that meant settling. A DWI on my record was the LAST thing I wanted. I was very hopeless and scared (considering it was my first offense) but Mark always reassured me that I had a very good case. Ultimately, Mark did a phenomenal job in the court room (he had the prosecutors speechless), which resulted in a dismissal. I recommend this man to everyone I know. Thank you Mark, I owe you my life.
NG